Who we are
We are a modern contact center, based on a solid IT infrastructure and a strong customer-centered culture. We deliver telemarketing, teleselling, customer care services, always exceeding required KPIs. We are small enough to customize every service and big enough to ensure organizational and time efficiency.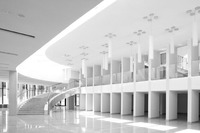 We are based in Albania (where we run 3 different sites) and Italy.
We are able to cover the most common european languages (English, German, Italian, French, Spanish) at a reasonable cost and high quality.
Why choose us
For the ability to quickly start, stop, expand, reduce or reconfigure the way you work.